The year 1996 marks a major milestone for precision tools and a reason for celebration at Fred V. Fowler Company. On this important anniversary the company, which occupies a key position in the world of precision measuring instruments, has announced an industry-wide "first" -- a 5-year warranty against defective materials and workmanship for its major Trimos, Sylvac and Bowers instruments.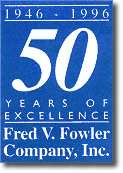 This unique warranty announcement confirms Fowler's long-held emphasis on quality assurance and its pride in standing behind its products. Long warranties are nothing new at Fowler. The company already offers its customers a 3-year warranty on Sylvac digital calipers, protractors, indicators, scales and depth gages as well as Trimos Length Instruments and Bowers Bore Gages. A 1-year warranty for all other tools listed in the Fowler catalog #2196 remains unchanged.
Fowler realizes the urgent need for American industry to compete effectively in both domestic and world markets. "It can only do so by improving product quality," says President Fred V. Fowler Jr. "By offering the latest state-of-the-art instruments and systems, our company allows its customers to improve and refine their SPC processes and programs. Our instruments can perform inspections directly on the production line as well as in the most up-to-date metrology laboratory environment."
Fowler precision tools and systems are used by every leading aerospace, automotive and industrial manufacturer, engaging in the most advanced production and inspection methods. To maintain its key position, the organization continues its surveillance of the newest and most accurate instruments manufactured all over the world in order to make them available to its customers.