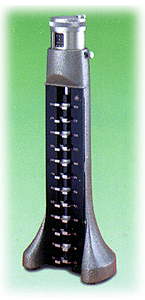 Made in Switzerland by Trimos SA, the internationally recognized leader in height measurement, the THM Height Micrometer combines high accuracy, durability and long life into a simple, easy to use, reliable instrument.
Applications & Advantages:
Eliminates errors which result from "stacking" gage blocks
For direct and transfer measurements.
For squareness checking.
Set internal and external instruments such as micrometers, bore and snap gages, etc.
Eliminates errors and speeds up work.