In addition to normal operation, the SE1700 can be set to measure in the modes of Average, Continuous, Curve, Partial Surface and External Control. Modes for measurements of averaging multiple results, continuous sample lengths, curve surface analysis, erasure of profile defects prior to recalculation and external control-by PC and SPC.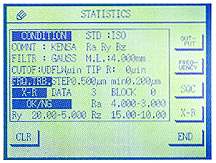 Memory of Measurement Conditions
Two individual sets of measuring data conditions may be stored in the instrument, with 16 sets stored in each memory card used. Storage procedure is simple using alphanumeric names, modifications to each program setting can be quickly made and saved.

Instrument Calibration
Calibration of the instrument is automatically carried out using the master specimen supplied. Horizontal calibration is carried out by a method based on measured waveforms taken from a known standard.