Filed of View (FOV) Measurement System
CO-VM-S20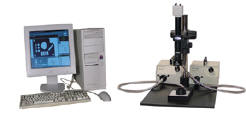 Improve your quality control without hurting your bottom line. Scienscope's CO-VM-S20 is an affordable, yet highly accurate measurement system.

SOFTWARE

The AVM20 software is a PC-based field of view dimensional measurement software that turns a conventional microscope into a powerful measurement station. The software uses the latest digital image processing technology to analyze video images for dimensional measurement. It then compares the measurement to nominal values and tolerances to identify conditions of non-conformance. The software can also be integrated to your application.
The software is for Windows 95, Windows 98 and Windows NT 4.0. It takes advantage of the latest operating systems and provides you a familiar, graphical environment to complete your measurement. The software can be easily linked to other Windows applications, such as spreadsheets and SPC packages. The AVM20 tolerance functions conform to ASME Y14.5M 1994.
The software is designed for image documentation, product inspection and quality control. The software provides a full range of functions for image capture, measurement, archival, image comparison, image and result output. The software is easy to use and it will deliver reliable and repeatable precision measurement results on the hardware of your choice.

Video Card

A video card is used to transfer the image to the PC monitor, where an accurate measurement can be achieved using the AVM20 Software. The Video Card incorporates an on-board 3D accelerator and 8 MB of fast SGRAM. Its 128-bit memory interface is capable of running at speeds up to 125 MHz, allowing for display resolutions up to 1600x1200 at 85 Hz.
Options
FC-BL-22 2" x 2" Back light guide
IL-88-FOI 150 Watt fiber optic illuminator
Various Auxiliary lenses and Couplers for different magnifications and FOV, look at table below for configurations
Sample Images - click to expand
OPTICS
Rugged micro zoom lens with 0.7x - 4.5x primary magnification.

0.35x CCD Coupler

F.O.V.: (based on a 1/3" CCD)
Hi-Mag:
H: 3.04 mm
V: 2.28 mm
Low-Mag:
H: 19.59 mm
V: 14.69 mm
CCD Camera

1/3" CCD Color camera with 480 TV Lines of resolution;
768 (H) x 494 (V) pixels. Manual gain and color controls allow for exceptional color reproduction. 12-pin Hirose connector with power and S-Video Out.
Base and Focus System
15" x 15" Base with 15" Vertical post (37.5 mm thick). Through hole focus rack with coarse (25 mm) and fine (5mm) focus. Zoom lens coupler slides and locks into end of focus rack.

Illumination System

150 Watt fiber optic illuminator with intensity control and a 36" Annular ring light guide. Provides you with shadow free and evenly distributed light.
Calibration Target
N.I.S.T. traceable calibration target. 11 concentric circles from 0.005" - 1.00".
PC Requirements
Pentium Class Processor

SVGA monitor with 800 x 600 or better resolution

CD-ROM drive

32 MB RAM

Hard drive with minimum 20 MB free space

Windows 95/98, Windows NT 4.0 or later

PCI slot for video card