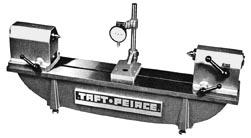 No. 9205, 8" x 18"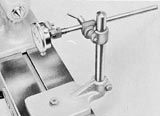 Mounting, Bracket, and 0.0001" Dial Indicator are useful Bench Center accessories available at slight extra cost.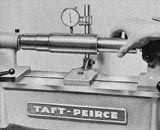 Rotating work against dial indicator to determine runout.
Taft-Peirce Bench Centers offer a fast, accurate method of inspecting work on arbors, mandrels, or directly on centers. A large number of standard and special headstock, tailstock and bed combinations are available for handling work of practically any length and diameter. Designing and Manufacturing of Special Bench Centers and special attachments are available.

Standard Bench Centers are shipped in 3 sizes with capacities of 8" x 18", 8" x 36" and 16" x 66" respectively. Beds are ruggedly proportioned with internal ribbing for maximum strength and rigidity, and are provided with four adjustable buttons for positive leveling. Alignment of head and tailstocks is maintained by keys which fit an accurately located 1/2" T-slot in the bed. This construction enables the head and tailstocks to be firmly locked at any point on the bed, and also makes it possible to equip the bed with most standard dividing heads.

The center in the headstock is fixed, while the tailstock center is held in a spring-loaded sleeve. Activating the lever mounted on the side of the tailstock retracts the tailstock center for easy work loading. When this lever is positioned fully counter clockwise, it secures the center.

The indicator mounting is keyed to the base T-slot and may be positioned anywhere between the centers and locked in place. The Indicator Bracket, attached to the Mounting by means of a universal clamp, allows the indicator to be adjusted up or down, swung 360° vertically, horizontally, or axially, and locked in any position.

SPECIFICATIONS

Bench Centers Beds are made of close-grained cast iron, thoroughly seasoned and carefully heat treated for maximum stability. The top surface is precision ground flat within limits listed under Parts, Attachments and Accessories Heading on this page. Head and Tailstocks are close-grained cast iron, each equipped with a hardened and ground 3/4" x 60° male center. They are machined in pairs with center axes held alike for height within 0.0005". Indicator Mounting: base 3-1/4" x 7", vertical post 6-7/8" x 3/4" dia. Indicator Bracket: arm 9-1/2" x 3/8" diameter with integral clamp designed to accommodate any standard lug back dial indicator. Bracket includes universal clamp for attaching to mounting post. Dial Indicator: AGD Group 2 fitted with lug back, diameter 2-3/16", graduation 0.0001", range 0.025", dial reading 0-5-10.

Standard Bench Centers are supplied complete with ground bed, headstock, tailstock, and centers. Mounting, Bracket, and Indicator furnished at slight additional cost.