FowlerBowers Holematic
Pistol-Grip Bore Gage System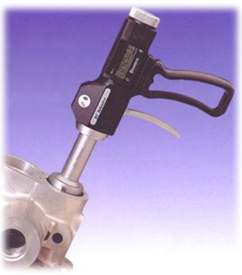 Fowler/Bowlers introduces the next generation Holematic Mark II Pistol Grip System, covering a range from 0.080" - 12" (2 - 300 mm). Now with improved electronics, the system includes preset memory and a new easy-to-read swivel display.

Ideal for use right on the shop floor, the Holematic system makes quick work of any bore gaging application, even when used by unskilled operators.
Holematic Features:

Resolution to 0.00005" (0.001mm)
Blind Bore anvils on heads above 1/2"
Two Preset Memories for ring gages
Carbide anvils on heads above 1/2"
Direct Inch to Metric Conversion
Direct SPC RS-232 Output
2 Point heads 0.080" to 0.236"
3 Point heads 0.236" to 12.000"
Variety of range sets available
Includes 5 year warranty
Holematic Specials:
Custom Gage Heads Available for:

Internal Slot
Int. Splines
Deep Hole
Grooves
Ball Race
Odd Tooth
Int. Threads
Recesses
Gear Tooth

Slot Width
Ext. Splines
Shallow Bore
Internal Hub
Counter bore
Odd Point
Ext. Threads
Long Reach
External Grv.

Copyright © 2005 Website Optimized by: Cherryoneweb.com