Sylvac D-100 System
Universal Probe & Gauge Amplifier
Designed for both laboratory and shop floor use, the D-100 family of gage amplifiers provides a multi-functioned answer to solve difficult measuring problems.

The ideal unit for complex parts measurement and multi-probe fixture gages, the D-100 system accepts simultaneous input from up to 64 sylvac probes, gage heads, and our Bowers SuperBore transducer handles.

Simple to use and operate, the unit features a modern, compact design for easy manipulation, and is enclosed in a shock resistant ABS housing. It is operated through a menu driven LCD screen allowing quick access to all it's features. Setups are automatically save in battery backed CMOS RAM and do not need to be re-entered for every use. Unit can be used as either a stand alone measuring center, or under computer control. 8 Digital I/O ports are provided for machine, PLC or robot control, as well as RS-232 and analog outputs.
Special Features:

Resolution to 0.00001" (0.0001mm)

Accepts up to 64 probes/transducers

Digital and Analog Display

Nominals input with Tolerancing

Direct Inch to Metric Conversion

Dynamic Mode Min/Max/Avg

Multi-Gage Capability (A+B) (A-B)

Large 3" x 2" LCD Display

9000 Value Storage with Statistics

Direct SPC Interface RS232 is integrated

Both DC and battery operation

Includes 5 year warranty
D-100 Unit Expansion Capabilities: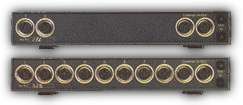 The D-100 unit accepts our P-5, P-10, P-25 and P-50 probes, as well as any Bowers Superbore Transducer. By attaching multi-channel access units (available in 2 or 8 channels) the probe capacity can be increased to a maximum of 64 measuring channels. Ideal for fixtures, the D-100 can automatically scan selected channels, perform gage calculations and store, display or send the values to remote processing instruments. Additional snap-on accessories are available for visual part sorting, audio indication and remote display.
Sylvac Long Travel Probes

Sylvac Linear Travel probes are long range, high accuracy capacitive probes that can be used for many gauging applications. Due to the capacitive nature of these probes, accuracy is excellent and they do not suffer from any of the linearity problems associated with LVDT style probes. All come with 8mm mounting diameters, and can be bushed to 3/8" size. Accuracies to 0.5um can be realized.

P-50 Range 0-2" (0-50mm)
P-25 Range 0-1" (0-25mm)
P-10R Range 0-.4" (0-10mm)
P-10 Range 0-.4" (0-10mm)
P-5R Range 0-.25" (0-5mm)
P-5 Range 0-.25" (0-5mm)

Notes: R designation describes right-angle cable exitation. Probes are also available in vacuum retracting versions. Special very high accuracy systems are available upon request. Please contact our technical department.
Copyright © 2005
Website Optimized by: Cherryoneweb.com