MAGNETIC V-BLOCKS
NO. 9806-1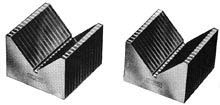 Magnetic V-Blocks are used for building set-ups on magnetic chucks for work requiring surface grinding. Universal in application and effective on practically any style or make of face plate, they carry a magnetic chuck's holding power well above its working surface.
SPECIFICATIONS
No. 9806-1 Magnetic V-Blocks are constructed of alternate laminations of brass and soft iron of high magnetic permeability. Approximate weight 2-1/2 lbs. each. Sold singly or in pairs within specified tolerances and numbered for identification.
TOLERANCES
Commercial
Class
Style No.
Overall Dimensions
Top of V
Approximate Weight (Each)
Price
Length
Width
Height
Individual
Pair
9806-1
2-1/2"
2-1/2"
1-3/4"
2-1/8"
2-1/2 lbs.
$383
$742
For additional data, see Reference, notes 1 and 7.
Automation and Metrology 130 Liberty Street Painesville, Ohio 44077
Phone: (440) 354 6436 Fax: (440) 639 9983
E-mail: sales@auto-met.com

www.auto-met.com