Summit Super 20-4 & 24-4 Series Engine Lathe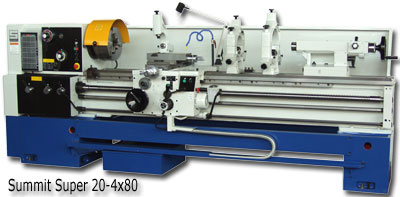 SUMMIT® 20 and 24" Series Engine Lathes combine accuracy, simplicity and affordability to bring you a proven industry leader. Tested under the most demanding work conditions, this lathe turns rings around other lathes in their class. SUMMIT 20 and 24" Series Lathes have just the right amount of engineering to afford simplicity of operation, coupled with plain and simple rugged reliability. In addition, built in safety features with the safety interlock eliminating the simultaneous engagement of the feed and threading motion, place these machines in a field of their own - unparalleled in performance.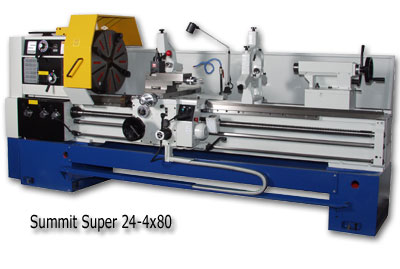 A few of the outstanding features on the SUMMIT 20 and 24" Series Lathes are a cross ribbed headstock for added strength and stability, with anti-friction mounted shafts and dynamically balanced components; hardened and ground alloy steel gears, shafts and splines, and an oversized precision chrome alloy spindle with a big 4-1/8" thru hole that is mounted in double row angular contact thrust bearings and 2 double row roller bearings. These large spindle bearings give the 16-24" Series Lathe greater radial and thrust capacities ensuring very precise turning capabilities.
Available in 60", 80" and 120" center distances, the SUMMIT 20 and 24" Series Engine Lathe feature hardened and precision ground bed ways on a heavy one-piece close grain cast bed that is fully ribbed for maximum stability and even thermal expansion. Standard on every machine is a quick-change gearbox for cutting Metric, Module, and Diametrical Pitch threads as well as standard American threads.
Included Accessories:
Thread dial
Std steady rest
Oversize steady rest w/ roller tips
Follow rest
2-speed tailstock
Coolant system
Taper Attachment
3-jaw chuck
4-jaw chuck
Carriage stop
Work light

Specifications:
20-4 Series
24-4 Series
Swing over bed
20 1/4"
25"
Swing over cross slide
11 7/8"
17"
Swing over gap
27 5/8"
33"
Length of gap
15"
Length of gap in front of faceplate
8 3/8"
Workpiece Weights:
At headstock
1,000 lbs.
Between centers
4,000 lbs.
Between centers w/ steady rest
5,000 lbs.
Headstock:
Spindle speeds (number) range
(15) 11.5-1400 RPM
(21) 20-1250 RPM
Hole thru spindle
4 1/8"
Quick Change Gearbox:
Threads per inch (number) range
(64) 1/4 - 60
Metric threads (number) range
(64) .5 - 120
Longitudinal feeds (number) range
(124) .00145 - .44474
Cross feeds (number) range
(124) .0007 - .22237
Metric feeds (number) range
Main Motor:
10 HP
15 HP
Coolant Pump:
1/4 HP
Bed Lengths & Weights:
60" - 6,800 lbs.
60" - 7,000 lbs.
80" - 7,200 lbs.
80" - 7,400 lbs.
120" - 7,800 lbs.
120" - 8,000 lbs.