Summit 16 Series Precision Engine Lathe

The Summit® 16" Series Precision Engine Lathes are the "Heavy Weight" leader in the mid-size class. They are designed with elements normally only found on larger more expensive lathes.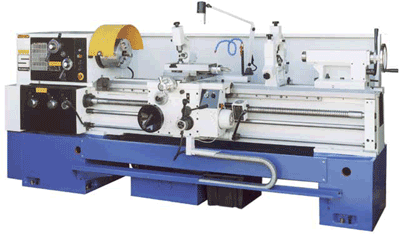 The Summit 16" is highly accurate for the finest finishes but with the bulk and horsepower for the heaviest chip load, this combination of accuracy and strength sets the Summit 16" apart from other lathes in this size range. The Summit 16" is not only a real "work-horse" it is also one of the easiest lathes to operate in the industry. It offers features such as four way rapid traverse, single handle "joy-stick" controls and feed and threading safety interlocks that make it a breeze to operate. The four way rapid traverse makes set up a cinch and the "joy-stick" control allows carriage or cross slide movement in any direction at the flip of a lever without changing the rotation of the feed rod or spindle.

The Summit 16" Series includes an outstanding list of Standard Features that are the heart and soul of the Summit Lathe Line; a headstock that is cross-ribbed for strength and stability and fitted with dynamically balanced shafts mounted in high accuracy antifriction bearings; gears, shafts and splines manufactured from alloy steel then hardened and precision ground; a large chrome alloy spindle with a big 3" thru hole that is mounted in double row angular contact thrust bearings and 2 double row roller bearings that provide the necessary radial and thrust capacity for precise turning capabilities.

Available in 40", 60" and 80" centers the Summit 16" Series Precision Engine Lathes also feature hardened and precision ground bedways on a heavy 15 ¾" wide one piece closed grain cast bed that is fully ribbed for maximum stability and even thermal expansion. Standard on the Summit 16" and all Summit lathes is a quick-change gearbox for cutting Inch, metric, module and diametrical pitch threads without change gears.
Accessories Included:
Thread dial
Steady rest
Follow rest
Coolant system
Taper Attachment
3-jaw chuck
4-jaw chuck
Carriage stop
Work light

Specifications:
16 Series
Swing over bed
16"
Swing over cross slide
9 3/8"
Swing over gap
25 1/8"
Length of gap
15"
Length of gap in front of faceplate
8 3/8"
Headstock:
Spindle speeds (number) range
(21) 20-2000 RPM
Hole thru spindle
3"
Quick Change Gearbox:
Threads per inch (number) range
(64) 1/4 - 60
Metric threads (number) range
(64) .5 - 120
Longitudinal feeds (number) range
(120) .00185 - .4447
Cross feeds (number) range
(120) .0007 - .2224
Metric feeds (number) range
(120) .039 - 12
Main Motor:
10 HP
Coolant Pump:
1/4 HP
Bed Lengths & Weights:
40" - 5,720 lbs.
60" - 6,050 lbs
80" - 6,380 lbs.