Summit® HTM Series Horizontal Boring Mill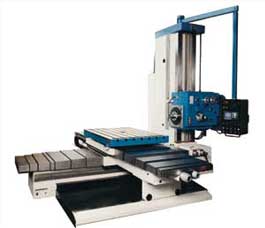 Whenever metal must be machined efficiently and with precision, SUMMIT Horizontal Boring Mills provide a cost effective solution. Summit's series of HBM's incorporate many advanced construction features, utilizing the latest technologies to ensure high performance and to meet the ever increasing demand for greater productivity.

The SUMMIT Models HTM 4 & 5 contain more standard features than any comparable models on the market. SUMMIT HBM's are versatile, durable, heavy-duty, and user friendly machine tools that will provide you years of profitable trouble free operation.

Key Features:
Precision hardened and ground steel inserted bedways.
Fully automatic lubrication system.
Precision ground ballscrews on all axis.
State of the art PLC, electrics & hydraulics.
Rapid traverse in all feed directions.
Full steel telescoping way covers on horizontal axis.
Bellville washer tool clamping with hydraulic unclamping.
Built-in rotary table - 360° - 13,000 lbs. capacity. Rotary encoder ready.
Four axis electronic DRO included.
| | | |
| --- | --- | --- |
| Specifications: | HTM4 | HTM5 |
| Spindle: | | |
| Diameter of spindle | 4 1/8" | 4 15/16" |
| Taper of spindle | #50 | #50 |
| Number of spindle speeds | 18 | Inf. Variable |
| Spindle speed range | 16-1600 RPM | 5-2000 RPM |
| Travels: | | |
| Spindle travel – z axis | 27 ½" | 31 ½" |
| Vertical travel – y axis | 57"/64"/72" | 76" |
| Cross travel of table – x axis | 82" | 98" |
| Saddle travel – w axis | 62" | 70" |
| Number of feeds | 16 | Inf. Variable |
| Feed range | .001 - .189 IPR | 0 - 78 IPM |
| Rapid traverse in all directions | 98 IPM | 98 IPM |
| Rotary Table: | | |
| Positioning only | 360 degrees | 360 degrees |
| Size of table | 55" x 63" | 68" x 79" |
| Maximum weight of workpiece | 13,000 lbs. | 22,000 lbs. |
| Main Drive Motor: | 15 HP / 20HP | 40 HP / 50HP |
| Electrics: | 220/440/3/60 | 220/440/3/60 |
| Dimensions (LxWxH): | 197"x148"x143" | 226"x182"x192" |
| Weight: (approximate) | 35,200 lbs. | 57,200 lbs. |