The Summit Radial Drill Series is designed and manufactured to provide the highest level of rigidity, strength and ease of operation. The column, base, arm and headstock are all precision machined from aged, normalized, closed grain cast iron.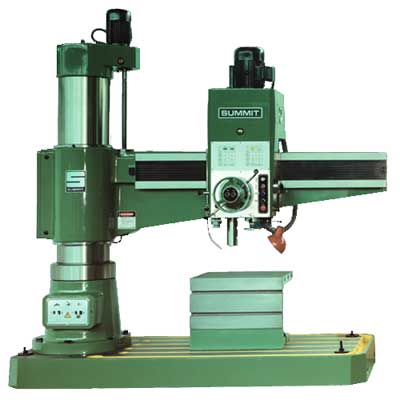 The precision ground column is mounted on a fixed base. It is fitted with a large diameter cylindrical roller bearing in the lower end for maintaining position with a combination of a radial roller bearing and a roller thrust bearing in the upper end.. The bearing configuration is designed to eliminate radial stress.
the radial arm is manufactured in a box form with heavy cross ribbing to give maximum rigidity. Raising and lowering the arm is accomplished by a crown mounted motor with conveniently located push button controls. The machine is fitted with a safety device to prevent column movement when the arm is clamped. Clamping and unclamping the arm on the 5'H and 6'H is hydraulic with push button controls. Clamping and unclamping the arm on the 3'H is achieved manually. The way surfaces of the have been hardened and precision ground for long life.
The headstock is fitted with anti-friction mounted shafts and dynamically balanced components; hardened and precision ground alloy steel gears, shafts and splines and a large diameter spindle mounted in precision roller bearings. The horizontal movement of the headstock is manual on roller bearings for ease of operation with hydraulic clamping and unclamping on the 5'H and 6'H and manual clamping and unclamping on the 3'H.
The base is an extra large casting with heavy internal webbing for additional support. It is machined with multiple T-slots for work holding convenience. The base also serves as the coolant reservoir and is fitted with the coolant pump.
Key Features:
Built in coolant and piping
Precision spindle, hardened and ground CRNI
Hydraulic clamping on 5'H & 6'H
Safety limit switches
Pressurized lubrication system
Heavily ribbed cast iron base and arm
Hardened and ground gears and shafts
Large T-slotted base
Adjustable clutch with automatic depth stop
| | | | |
| --- | --- | --- | --- |
| Specifications: | 3'H | 5'H | 6'H |
| Drilling capacity | 1-1/4" | 2" | 2-1/2" |
| Distance from Spindle axis and column | 11-13/16 - 39-3/8" | 11-3/4 - 63" | 18" - 80-3/4" |
| Column diameter | 9-7/16" | 13-3/4" | 18" |
| Spindle taper | 4 MT | 5 MT | 5 MT |
| Spindle travel | 11" | 12.5" | 16" |
| Spindle speeds (number) | 16 | 16 | 16 |
| Spindle speeds (range) | 32 - 2500 | 25 - 2000 | 21 - 1730 |
| Spindle feeds (number) | 8 | 16 | 16 |
| Spindle feeds (IPR) | .004"-.05" | .0015"-.125" | .0015"-.125" |
| Horizontal traverse of spindle head on arm | 27-9/16" | 50' | 63' |
| Arm elevating motor | 1 HP | 2 HP | 3 HP |
| Coolant pump motor | .1 HP | .12 HP | .16 HP |
| Spindle motor | 2 HP | 5.5 HP | 7.5 HP |
| Overall dimensions (L x W x H) | 70"x43"x81" | 98.5"x42"x105' | 114"x49"x126' |
| Weight | 3,500 lbs. | 7,700 lbs. | 15400 lbs. |