Summit SmartCut Series II CNC Combination Lathe
The manual lathe that thinks it's a CNC...
Cuts and performs like a CNC...
But is priced thousands less than Full CNC lathes.
SmartCut II is a new series of combination lathes available from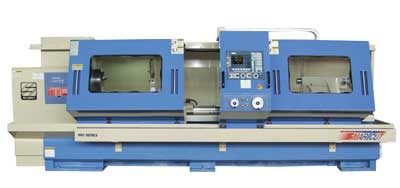 Summit. The SmartCut is every thing you would expect, rugged and dependable, with the precision needed for the finest finishes. It combines CNC controls with hand wheels for manual turning providing maximum convenience and economy.
SmartCut II incorporates a self-teaching controller. You can produce a part manually, and with a few simple key strokes the controller stores the machining sequences and creates a part program. At a later time, retrieve the program, enter the number of parts to be produced, and SmartCut II does the rest.
SmartCut II was designed for growing companies evolving from manual lathe operations to CNC. The control language is conversational with on screen menus and prompts to make programming virtually foolproof. The controls are also equipped with multiple ports for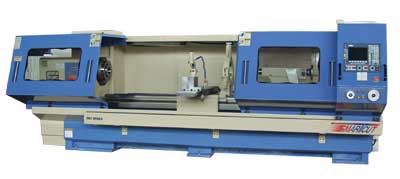 connection to off line programming systems for more advanced users. The combination of these control features and hand wheels enable you to use a single machine for one-off or prototype production; in a semi-automatic mode for small production lots; and in its fully automatic mode for medium length production runs.
The combination of CNC technology and manual capability, in a well made heavy weight design, make the Summit SmartCut II the new value leader in turning.
Available in 40" - 160" center distances with up to 5,000 lbs. part capacity.
Key Features:

Heavily ribbed cast bed and base
Hardened and precision ground bed ways
Precision ground ball screws
Infinitely variable speed ranges
Mitsubishi spindle drive

Constant surface speed
Fine feed electronic hand wheels
Inch-metric capabilities
T-slotted cross slide for multiple accessory compatibility


Fagor 8055TC CNC Control

Fagor 8055TC Video Demonstration

Intuitive operation with no need for any programming knowledge
Full length taper turning
Up to 1,000,000 part programs and 10,000 subroutines
Unlimited tool library
RS232 communications link
Interactive graphic display - solid or tool path
Full range of canned cycles, 17 in all
Tool radius compensation
User defined cycles

Ask whatever you want of it...

...because the FAGOR CNC 8055TC is a CNC for lathes which due to its versatility and capability, offers maximum features with absolute ease of operation.

Any operator, with no previous knowledge of programming, can take care of any need that arises with absolute efficiency. All he/she has to do is key in the machining conditions and the geometric data of the part.
Specifications:
SC510
SC560
SC660
SC760
SC840
120
SC940
120
168
168
Swing over bed
20"(500mm)
22"(560mm)
26"(660mm)
30"(760mm)
33"(840mm)
37"(940mm)
Swing over slide
11.5"(292mm)
12"(310mm)
16"(410mm)
20"(510mm)
19.7"(500mm)
23.6"(600mm)
Swing over gap
27.5"(700mm)
32.6"(830mm)
36.6"(930mm)
40.5"(1030mm)
43"(1100mm)
47"(1200mm)
Length of gap
12"(305mm)
15.3" (390mm)
Width of Gap
13"(330mm)
15.75" (400mm)
17.7" (450mm)
Hole thru spindle
3.312"(85mm)
4.1" (104mm)
4.7" (120mm)
6.6" (168mm)
Spindle Speeds (no.) Range
(inf variable)
10-2000 RPM
(3 ranges)
(infinitely variable)
10-1200 RPM (2 ranges)
(inf variable)
10-1000 RPM (2 ranges) 168
20-2000 RPM (2 ranges) 120
Feed Rate
X axis 0-250 IPM (0-6350 mm/min)
Z axis 0-400 IPM (0-10000 mm/min)
Tailstock - quill diameter
3' (75mm)
3" (75mm)
4.3" (110mm)
Tailstock - quill travel
6.5" (150mm)
7" (178mm)
7.87" (200 mm)
Z Axis Servo
4.5 Nm
5.1 Nm
6.5 Nm
X Axis Servo
2.1 Nm
4.5 Nm
4.5 Nm
Spindle Motor HP
10 HP
15 HP
30 HP
Dimensions (LxWxH)
40" cc
60"x80"x89"
60" cc
60"x60"x109"
80" cc
60"x80"x129"
60' cc
72"x84"x140"
80" cc
72"x84"x160"
120" cc
72"x84"x200"
160" cc
72"x84"x240"
60" cc
72"x86"x140"
80" cc
72"x86"x160"
120" cc
72"x86"x200"
160" cc
72"x86"x240"
60' cc
72"x88" x140"
80" cc
72"x88"x160"
120" cc
72"x88"x200"
160" cc
72"x88"x240"
Weight
40" cc 5500 lbs
60" cc 6050 lbs
80" cc 6600 lbs
60" cc 8140 lbs
80" cc 9240 lbs
120" cc 11440 lbs
160" cc 13640 lbs
60" cc 8580 lbs
80" cc 9680 lbs
120" cc 11880 lbs
160" cc 14080 lbs
60" cc 9020 lbs
80" cc 10120 lbs
120" cc 12320 lbs
160" cc 14520 lbs
60" cc 15180 lbs
80" cc 16720 lbs
120" cc 20020 lbs
160" cc 23760 lbs
60" cc 15400 lbs
80" cc 16940 lbs
120" cc 20240 lbs
160" cc 23980 lbs