Summit Vertical Boring Mills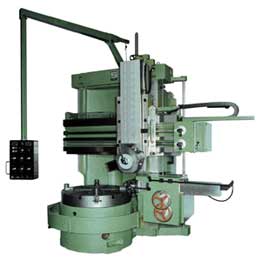 Summit® Heavy Duty Vertical Boring and Milling Machines provide a cost effective solution when metal must be machined efficiently and with precision. Summit's 48 & 60" (single column) and 80 " - 120 " (double column) VBMs incorporate many advanced construction features, utilizing the latest technologies to ensure high performance and meet the ever increasing demand for greater productivity; considering at all time the need for versatility, easy maintenance, and economical production cost.

A few of these outstanding design features are: heavily ribbed, closed grain castings which have been heat treated and stress relieved. These castings offer virtually the same thermal coefficient of expansion as steel while maintaining excellent dampening characteristics which provide enhanced dimensional part accuracy and constant surface quality. A large diameter Timken type taper roller bearing offers excellent table loading capacity and accuracy with work table run-out having axial and radial T.I.R. of 0.0005". Hardened and ground pinion/bull gear table drive provides constant tooth contact for smooth and vibration free turning combined with main A.C. brushless spindle drive for smooth running, superior speed control and maximum reliability.

Key Features:
High precision ballscrews for vertical & horizontal head movement.
One vertical head with indexing pentagonal turret.
One side head with standard tool holder.
One vertical plain ram (9.5" x 9.5" cross section) head (60" and up).
Set of four (4) reversible table jaws.
Precision, hardened and ground gearing.
Precision hardened and ground crossrail guideways.
Totally enclosed electrical equipment cabinet with state of the art PLC.
Pressurized lubrication system throughout with oil sight gauges.
Power rapid traverse to all heads.
Constant surface speed controlled through PLC as standard feature.
Centralized full electric pendant control panel for all operations mounted on a swiveling pendant arm (optional DRO built-in).
Full length bronze tapered gibbing.
Chrome-plated hand wheels and dials.
Emergency stop switch.
Wipers on all ways.
Built-in leveling screws with mounting pads.
Set of service spanners.
| | | | | | | |
| --- | --- | --- | --- | --- | --- | --- |
| SPECIFICATIONS | SCV48 | SCV60 | DCV80 | DCV100 | DCV120 | DCV160 |
| Capacities: | | | | | | |
| Maximum diameter of swing | 55" | 63" | 86" | 106" | 129" | 169" |
| Maximum diameter of swing w/ side head | 51" | 61" | 82" | 102" | 124" | 163" |
| Maximum machining height above table | 39 3/8" | 66 3/4" | 78" | 94" | 110" | 100" |
| Maximum weight of workpiece (lbs.) | 13,230 | 17,640 | 26,500 | 33,000 | 40.000 | 40,000 |
| Table: | | | | | | |
| Table Diameter | 47" | 57" | 78" | 98-1/2" | 118" | 157" |
| Table Speed (Infinitely Variable) (RPMs) | 2.5-250 | 2-220 | 1.55-140 | 1.24-112 | 1.0-92 | 1.0-92 |
| Vertical Heads: | | | | | | |
| Vertical heads no. (LH plain, RH Pent. Tur) | 1 RH | 2 | 2 | 2 | 2 | 2 |
| Swivel of each vertical head | +/- 35° | +/- 35° | +/- 35° | +/- 35° | +/- 35° | +/- 35° |
| Vertical travel right hand turret | 30" | 30" | 30" | 30" | 30" | 30" |
| Vertical travel left hand boring ram | N/A | 47" | 38" | 57" | 57" | 57" |
| Side Head: | | | | | | |
| Vertical travel of the side head | 35-7/16" | 47" | 76" | 90" | 100" | 96-1/2" |
| Horizontal travel of the side head | 25-1/2" | 27-1/2" | 27-1/2" | 35-1/2" | 39" | 39" |
| Cross Rail: | | | | | | |
| Vertical travel of cross rail | 31-1/2" | 51" | 66" | 82" | 98" | 90" |
| Rail-travel from table | | | 12"-78" | 12"-94" | 12"-110" | 12"-88" |
| Feeds: | | | | | | |
| Feeds-vertical & side heads - (no.) range | (16) .002-.200 IPR | (16) .002-.200 IPR | (16) .002-.196 IPR | (16) .002-.196 IPR | (16) .002-.196 IPR | (16) .002-.196 IPR |
| Rapid traverse for all heads | 98 IPM | 98 IPM | 98 IPM | 98 IPM | 98 IPM | 98 IPM |
| Motors: | | | | | | |
| Main drive motor | 75 HP | 75/100 HP | 100 HP | 100 HP | 100 HP | 100 HP |
| Rail elevating motor | 5.5 HP | 10HP | 10HP | 10HP | 10HP | 10HP |
| Rapid traverse motor | 4 HP | 4 HP | 4 HP | 4 HP | 4 HP | 4 HP |
| Dimensions: (LxWxH) | 106" x 142" x 154" | 138" x 150" x182" | 169" x 165" x 181" | 189" x 189" x 197" | 208" x 220" x 212" | 228" x 260" x 248" |
| Weight: | 35,500 lbs. | 52,000 lbs. | 76,000 lbs. | 95,000 lbs. | 108,000 lbs. | 140,000 lbs. |