Summit® "V" Series Knee Mills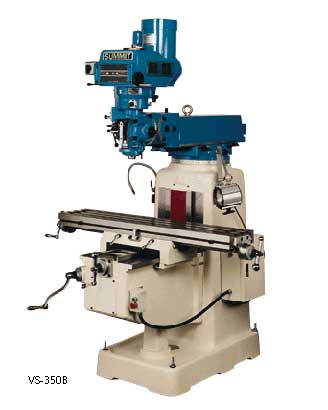 The rugged Summit V-series vertical mills have been engineered and manufactured from the finest components with the operator in mind. All the controls are centralized for ease of operation in either hand or power feed mode. Movement of the head to various angles is easily obtained from the operators position. The heavy one piece base and column is a thick walled Mehanite casting that is fully cross-ribbed for strength and rigidity. The built in coolant tank is another added value feature of the heavy duty base and column.
Key Features:
Heavy Mehanite cast construction
Heavy box saddle
Huge box type ways on knee
Double table locks
Way wipers for saddle and column
Hardened & ground ways
Hand and power spindle feeds
Tilting and rotating head
Built-in coolant system
One-shot lubrication
Adjustable cross slide stops
Variable speed head (VS350B)
See our Electronic Variable Speed Models Here
Specifications:

V-242B

VS-350B

VS-550B

Motor size (2 speeds)
2 HP
3 HP
5 HP
Spindle Speeds - number
16
Inf. variable
Inf. variable
Spindle speeds - range
16-5440 RPM
60-4200 RPM
80-3500 RPM
Spindle taper
R-8
R-8
R-8
Spindle Travel
5"
5"
5.5"
Spindle feed range
.0015/.003/.006 ipr
.0015/.003/.006 ipr
.0015/.003/.006 ipr
Head movement
(side to side)
+/- 90°
+/- 90°
+/- 90°
Head Movement
(front to back)
+/- 45°
+/- 45°
n/a
Table size (WxLxH)
9"x42"
x3-1/8"
10"x50"
x3-1/8"
11"x52"
x3-1/8"
Table feed (longitudinal)
30"
36"
32 1/2"
Table feed (cross)
16"
16"
16"
Max weight of work piece
850 lbs.
850 lbs.
850 lbs.
Rotation of over arm
360°
360°
360°
Over arm adjustment
24"
24"
24"
Spindle nose to table
2-1/2" - 18-1/2"
2-1/2" - 18-1/2"
2" - 22"
Weight
2160 lbs.
2675 lbs.
3740 lbs.