Summit CNC Vertical Turning Boring or Milling Machines

Summit's heavy duty CNC VTL machines provide solutions for manufacturing needing cutting efficiency combined with high accuracy in their specific CNC application.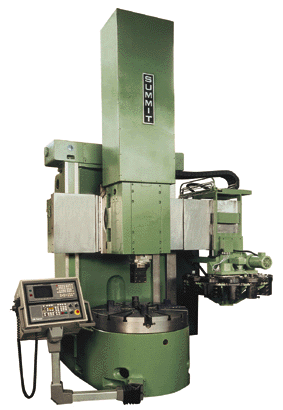 Based on specific demands, Summit can supply CNC Vertical Turning, Boring and Milling machines ranging from 48" to 60" swing (single column) and 80" to 160" swing (double column). These machines can be built in any configuration, single CNC head, two CNC heads, with one or two Automatic Tool Changers.
The CNC heads can also be built for specific cutting needs, either for plain CNC turning or for more complex operations in the live spindle versions for turning, milling, drilling and boring operations.
The CNC heads feature one of the most solid design for forged rams, having a cross section of 9.5' x 9.5" for 48" and 60" CNC machines to 11.8' x 11.8" for 80" to 160" CNC machines. These are the most solid vibration free CNC rams on the market today.
The wide range of configurations and travels would certainly accommodate any application you may have.
Rotary tables are installed on high precision cross type Timken bearings and driven by hardened and ground pinion / crown gear mechanism to efficiently transmit power and torque from main motors ranging from 75 to 100 HP. All Summit VTLs incorporate ZF reducing boxes to increase efficiency and reliability of all transmissions around machines.
All Summit VTLs are built using the latest state of the art electrics and hydraulics such as Fanuc, Siemens and Fagor controls and ATOS/Rexroth hydraulics.
Please call the Summit Sales Department to discuss your specific needs for CNC Vertical Turning, Milling and Boring. We can build a machine that perfectly suits your application.
Look here for details on the 60" CNC VBM currently in production.